David K. Silverman;
Chemical Engineer
Degreed in Chemical Engineering and Pulp and Paper Engineering from Georgia Tech, David has more than 25 years of commercial, industrial and municipal water and wastewater treatment design, manufacturing and installation experience. He has designed, manufactured and installed performance-based wastewater treatment systems since 2001.
Call David: 321-777-4909
email:
dsilver@advancedwater.com

J. Morris Smith, PE, PSM;
Engineering Director
Morris has been immersed in Civil Engineering, planning, surveying, drafting, design, project direction, consulting, geographical information systems, administration and more since earning his degree in Civil Engineering in 1982 from Florida International University. Morris' resumé included a long list of duties and accomplishments even before he opened his own engineering/surveying firm specializing in housing and commercial development, planning and optimization.
Call Morris: 321-777-9990 • Cell: 321-725-0234
eMail:
morris@advancedwastewater.com

Contact Us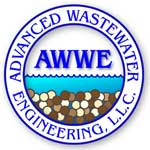 Advanced WasteWater Engineering, L.L.C.
P.O. Box 373124
Indian Harbor Beach, Florida 32937
Call: 321-777-9990
info@advancedwastewater.com
Design
Permitting
Installation
Maintenance
Service