Has Your Wastewater Treatment System Failed?
Hundreds of thousands of septic systems throughout Florida were designed to collect wastewater and effluent from private residences, commercial and industrial businesses and recreational facilities; then treat and release it back into the environment. Unfortunately, many existing systems were designed when standards were lower than today's, and many are not even working as designed but are still in use today. As a result, improperly treated wastewater with high levels of nitrogen, phosphorous and fecal coliform bacteria are released into our environment daily. Often, problems are not discovered until a system completely fails, causing plumbing backups and contamination of groundwater, accompanied by puddling surface wastewater, runaway plant growth and strong odors.
AWWE Performance-Based Treatment Systems Work!
Performance-based treatment systems meet and/or exceed today's governmentally mandated performance standards. AWWE offers viable performance-based systems with up to a 70 percent reduction in drain field sizes for homeowners, neighborhood groups, sub-division developers, commercial properties like strip-malls or office buildings and more. Drainfield size reductions especially benefit those unable to obtain permits for wastewater treatment due to the inefficiencies and restrictions of conventional systems. AWWE will complete your new construction solution or replace an existing failed system — providing the design, completing the permits, the construction and offering long term maintenance and service. We will serve as your primary contractor or as a sub-contractor to your existing builder. AWWE will make your project successful, even in the most challenging circumstances and environments.

Contact Us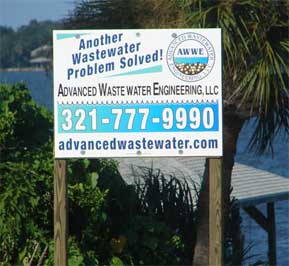 Advanced WasteWater Engineering, L.L.C.
P.O. Box 373124
Indian Harbor Beach, Florida 32937
Call: 321-777-9990
info@advancedwastewater.com
Design
Permitting
Installation
Maintenance
Service